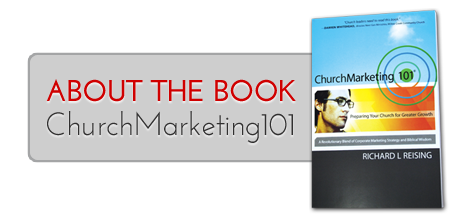 SOME PEOPLE WHO LIKE IT
...an absolute must-read for all church leaders. I loved it! 
-Mike Schreiter [Managing Editor] Christianity Today
...Church leaders need to read this book. 
-Darren Whitehead [Teaching Pastor] Willow Creek
...a must-read for anyone who is committed to reaching their
      community. 
-Dr. Davis Dykes [Senior Pastor] Green Acres Baptist Church
...Required reading for every pastor in America. 
-Brad Abare [Founder] ChurchMarketingSucks.com
...an important message for the church to hear and apply. 
-Robert Morris [Senior Pastor] Gateway Church
...by far the best, most informative marketing book I've ever read
       —secular or spiritual! 
-Ivan Carson [Executive Assistant Pastor] Northside City Church
ORDER IT
You can buy this book from Amazon.com, ChristianBook.com, Barnes & Noble, or your local bookstore. Buy bundles and
videos here.